http://classifieds.thegazette.com/category/transportation/autos/6643-honda-1996-accord-sedan-automatic-228290-miles-con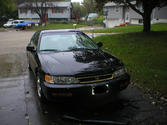 Honda 1996 Accord Sedan Automatic, 228290 Miles. Con
$600
Description
HONDA 1996 ACCORD SEDAN

Automatic, 228290 miles. Considerable damage to rear but very drivable.

Runs good. $600, no checks.

319-854-7356 or 319-213-7061.


YEAR:

1996

MAKE:

Honda

MODEL:

Accord

BODY TYPE:

sedan

MILEAGE:

228890

EXTERIOR COLOR:

black

INTERIOR COLOR:

gray
Ad ID: 83707
Post Date: October 10, 2017
Expire Date: November 8, 2017
Important Safety Tips
Avoid scams by meeting sellers in-person to pay for items. Always inspect an item before paying and be wary of deals that are too good to be true. Stay safe – read our fraud awareness tips.
Email Seller